Industrial Grease » High Vacuum Grease
GRADES :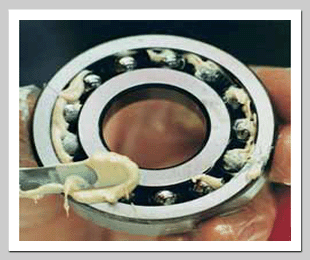 Introduction / Specification of High Vacuum Grease :
High Vacuum Grease - III is stiff non - melting grease. If maintains its consistency over a wide range of temperature, from -200C to 2000C. Its very low volatility, low vapour pressure of the base materials used, makes it an ideal sealant for high vacuum Grease / high pressure systems. High Vacuum Grease is not affected by water and chemically resistant also.
Application / Composition of High Vacuum Grease :
High Vacuum Grease - III is used in lubricating plug valves, control systems wherein high vacuum / high pressures are encountered and valves remain operational for a longer period despite high temperature and adverse atmospheric conditions.
Performance Level of High Vacuum Grease :
hitemp & hitemp extra grease meet IS 12790: 1990.
Typical Properties of Cup Grease :
| | |
| --- | --- |
| CHARACTERISTICS | High Vacuum Grease -III |
| Appearance | Translucent |
| Unworked Penetration @ 25°C | 200 - 260 |
| Softening Point, °C | 210 |
| Evaporation loss @ 200 °C after 24 hrs | 2% Max |
Manufacturers, Exporters and Suppliers of High Vacuum Grease from INDIA.
Our Quality prices products are being used in various countries like i.e. India, Srilanka, Bangladesh, Italy, New Zealand, France, Mauritius,Switzerland, Pakistan, Nepal, Myanmar, Vietnam, Thailand, Malaysia, Singapore, Philippines, Middle East Countries - UAE cities as SHarjah, Dubai, Abu Dhabi, Saudi Arabia, Qatar - Doha, Oman - Muscat, Iran, Iraq, Kuwait, Jordan, Egypt, African countries i.e. Nigeria, Ethiopia, Egypt, Uganda, Mozambique, Namibia, South Africa and western countries like UK, Brazil, USA, Argentina & More...
Delars, Distributers, Enquiries, Solicited From The Indian Space At Andhra Pradesh, Arunachal Pradesh, Assam, Bihar, Chhattisgarh, Delhi, Goa, Gujarat, Haryana, Himachal Pradesh, Jammu and Kashmir, Jharkhand, Karnataka, Kerala, Madhya Pradesh, Maharashtra, Manipur, Meghalaya, Mizoram, Nagaland, Odisha,Northeast India, Iraq, Punjab, Rajasthan, Sikkim, Tamil Nadu, Telangana, Tripura, Uttar Pradesh, Uttarakhand, West Bengal.
We have surplus capacity to produce lubricant and this extra capacity can be used to cater other parties to manufacture/filling their brand of product by way of toll blending.
DISCLAIMER : The information given here is considered to be correct & is offered for your consideration, investigation & verification. No Warranties are expressed or implied, since the use of products are beyond our control.