Automotive Oil » Radiator Coolant
GRADES : CONCENTRATED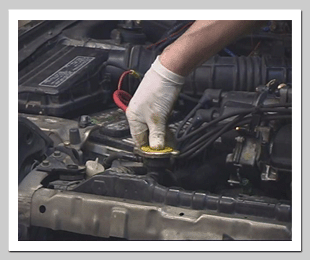 Introduction / Specification :
Radiator Coolant is a premium quality synthetic radiator coolant which is free from amines, borates, silicates and phosphates. Radiator Coolant is easily miscible with water and possesses excellent hard water stability. Radiator Coolant has good chemical stability and protects non-metallic components of engine radiator coolant, like gaskets and hoses. It exhibits high boiling point and low freezing point to take care of summer and winter.
Application / Composition :
Radiator Coolant is recommended for use in mobile and stationary automotive engines having closed loop radiator coolant circulation systems and advised to use one part of the concentrated fluid with two parts of water (preferably Demineralised Water) in the engine radiator coolant or as per the recommendation of OEM.
Performance Level :
It meets the requirement of
JIS K - 2234 - 1934.
IS: 5759 - 1994.
Typical Properties :
| | |
| --- | --- |
| Typical Properties Radiator Coolant | Radiator Coolant |
| Colour | Bluish Green |
| Boiling Point, °C. Min. | 155 |
| Freezing Point of water solution, ºC. 50 % solution. | (-) 35 |
| Freezing Point of water solution, ºC. 30 % solution. | (-) 15 |
Manufacturers, Exporters and Suppliers of Radiator Coolant from INDIA.
Our Quality prices products are being used in various countries like i.e. India, Srilanka, Bangladesh, Italy, New Zealand, France, Mauritius,Switzerland, Pakistan, Nepal, Myanmar, Vietnam, Thailand, Malaysia, Singapore, Philippines, Middle East Countries - UAE cities as Sharjah, Dubai, Abu Dhabi, Saudi Arabia, Qatar - Doha, Oman - Muscat, Iran, Iraq, Kuwait, Jordan, Egypt, African countries i.e. Nigeria, Ethiopia, Egypt, Uganda, Mozambique, Namibia, South Africa and western countries like UK, Brazil, USA, Argentina, Uruguay, Peru & European countries like Germany, Turkey, Spain, Netherland, England More... .
Delars, Distributers, Enquiries, Solicited From The Indian Space At Andhra Pradesh, Arunachal Pradesh, Assam, Bihar, Chhattisgarh, Delhi, Goa, Gujarat, Haryana, Himachal Pradesh, Jammu and Kashmir, Jharkhand, Karnataka, Kerala, Madhya Pradesh, Maharashtra, Manipur, Meghalaya, Mizoram, Nagaland, Odisha,Northeast India, Iraq, Punjab, Rajasthan, Sikkim, Tamil Nadu, Telangana, Tripura, Uttar Pradesh, Uttarakhand, West Bengal.
Radiator Coolant oil mostly used and applicable in barrels in various maintenance work shops in garages area and in Fuel injection workshops or fuel injection industries and workshops across thousands of city shops in States of India
We have surplus capacity to produce lubricant and this extra capacity can be used to cater other parties to manufacture/filling their brand of product by way of toll blending.
Distributors Enquiries Solicited.
DISCLAIMER: The information given here is considered to be correct & is offered for your consideration, investigation & verification. No Warranties are expressed or implied, since the use of products are beyond our control.