Eastto Mosquito Larvicidal Oil
(Without Insecticide)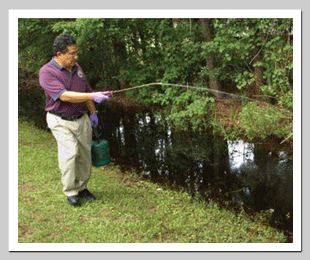 Introduction / Specification of Mosquito Larvicidal Oil :
Stagnat pools help mosquito larvicides to proliferate causing malarial epidemics. Larvicides, however need oxygen for their survival which can be prevented by providing an impregnable film to float on water bodies. EASTTO MOSQUITO LARVICIDAL OIL helps to provide a fortified stable film with adequate surface tension with a view to cut off ingress of oxygen to the water surface. The product in non toxic to plants marine life, animals, human beings and is environment friendly. A lethal dosage of minimum 0.001 cm thick is suggested. Recommend Dosage: lOOcc per sq. meter. Tested in Line with WHO specifications by reputed institutes.
Application / Composition of Mosquito Larvicidal Oil :
EASTTO MOSQUITO LARVICIDAL OIL is either poured gently or suitably sprayed on the desired area.
Performance Level of Mosquito Larvicidal Oil :
Ease of Application
Effective against mosquito larvae
Aedes Aegypti and Anopheles stephensi
Non toxic to marine, animal & human
Environment Friendly
Mortality 80-90%
Product approved in line with WHO specs (Non Insecticide)
Typical Properties of Mosquito Larvicidal Oil :

CHARACTERISTICS
Eastto Mosquito Larvicidal Oil

Clear Dark Brown Liquid

Appearance & Colour
Flash Point. PMCC, °C
Above 70
Water Content, % by Weight
0.001
Film Stability for minimum 2 Hours
Passes
Spreading Pressure, Min
18 dynes/cm2
Eastto Mosquito Larvicidal Oil application :
Used by pesticides, insecticide manufacturing, dealers and suppliers etc.
Eastto Mosquito Larvicidal Oil is mostly used in as mosquito oil, Insecticides, Pesticides, Malariya control.


Manufacturers, Exporters and Suppliers of Mosquito Larvicidal Oil from INDIA.
Our Quality prices products are being used in various countries like i.e. India, Srilanka, Bangladesh, Italy, New Zealand, France, Mauritius,Switzerland, Pakistan, Nepal, Myanmar, Vietnam, Thailand, Malaysia, Singapore, Philippines, Middle East Countries - UAE cities as Sharjah, Dubai, Abu Dhabi, Saudi Arabia, Qatar - Doha, Oman - Muscat, Iran, Iraq, Kuwait, Jordan, Egypt, African countries i.e. Nigeria, Ethiopia, Egypt, Uganda, Mozambique, Namibia, South Africa and western countries like UK, Brazil, USA, Argentina, Uruguay, Peru & European countries like Germany, Turkey, Spain, Netherland, England More...
Delars, Distributers, Enquiries, Solicited From The Indian Space At Andhra Pradesh, Arunachal Pradesh, Assam, Bihar, Chhattisgarh, Delhi, Goa, Gujarat, Haryana, Himachal Pradesh, Jammu and Kashmir, Jharkhand, Karnataka, Kerala, Madhya Pradesh, Maharashtra, Manipur, Meghalaya, Mizoram, Nagaland, Odisha,Northeast India, Iraq, Punjab, Rajasthan, Sikkim, Tamil Nadu, Telangana, Tripura, Uttar Pradesh, Uttarakhand, West Bengal.
DISCLAIMER: The information given here is considered to be correct & is offered for your consideration, investigation & verification. No Warranties are expressed or implied, since the use of products are beyond our control.