Industrial Grease » Wheel Bearing Grease
GRADES: NLGI NO. 2.5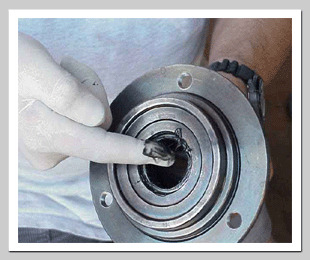 Introduction / Specification of Wheel Bearing Grease :
Wheel Bearing Grease is sodium based automotive grease manufactured from superior quality base stocks and specially selected additives. Wheel Bearing Grease is having high drop point, good thermal and structural stability. Wheel Bearing Grease provides long service life of anti-friction bearings of light and heavy vehicles under most extreme condition of operation.
Application / Composition of Wheel Bearing Grease :
Wheel Bearing Grease is recommended for the lubrication and protection of wheel bearing and other components of vehicles which do not come in contact with moisture / water.
Performance Level of Wheel Bearing Grease :
Meet IS: 10647 - 1983 ( RA 1993)
Typical Properties of Wheel Bearing Grease :

| | |
| --- | --- |
| CHARACTERISTICS | Wheel Bearing Grease 100 |
| Type of Soap | Sodium |
| Colour | Brownish Black |
| Work Penetration at 25°C | 250 - 280 |
| Drop Point °C, Min. | 170 |
Manufacturers, Exporters and Suppliers of Wheel Bearing Grease from INDIA.
Our Quality prices products are being used in various countries like i.e. India, Srilanka, Bangladesh, Italy, New Zealand, France, Mauritius,Switzerland, Pakistan, Nepal, Myanmar, Vietnam, Thailand, Malaysia, Singapore, Philippines, Middle East Countries - UAE cities as SHarjah, Dubai, Abu Dhabi, Saudi Arabia, Qatar - Doha, Oman - Muscat, Iran, Iraq, Kuwait, Jordan, Egypt, African countries i.e. Nigeria, Ethiopia, Egypt, Uganda, Mozambique, Namibia, South Africa and western countries like UK, Brazil, USA, Argentina & More...
Delars, Distributers, Enquiries, Solicited From The Indian Space At Andhra Pradesh, Arunachal Pradesh, Assam, Bihar, Chhattisgarh, Delhi, Goa, Gujarat, Haryana, Himachal Pradesh, Jammu and Kashmir, Jharkhand, Karnataka, Kerala, Madhya Pradesh, Maharashtra, Manipur, Meghalaya, Mizoram, Nagaland, Odisha,Northeast India, Iraq, Punjab, Rajasthan, Sikkim, Tamil Nadu, Telangana, Tripura, Uttar Pradesh, Uttarakhand, West Bengal.
We have surplus capacity to produce lubricant and this extra capacity can be used to cater other parties to manufacture/filling their brand of product by way of toll blending.
DISCLAIMER: The information given here is considered to be correct & is offered for your consideration, investigation & verification. No Warranties are expressed or implied, since the use of products are beyond our control.